Drew Patterson, left, Regional Account Manager with Zink Foodservice, and Robojo CEO Ben Czajka, with their first U.S. unit, now operating at Doctors Hospital. Zink is a partner in Robojo.
The newest advancement at Doctors Hospital isn't a radical treatment or cutting-edge medical technology. It's a coffee bar.
The first U.S. MyAppCafe unit opened at the OhioHealth facility late last month and served more than 1,400 hot coffees, lattes and mochas to the hospital's patients, staff and visitors in its first week.
Despite that 200-cups-a-day volume, the productivity never slowed and the customer's name was always right.
That's because because MyAppCafe is a robot. 
"The reaction has been amazing," said Kim Hehman, OhioHealth senior advisor of operations. "People are excited. They're standing there recording it. There's laughing in our lobby. That's something that's been difficult to find these last few years."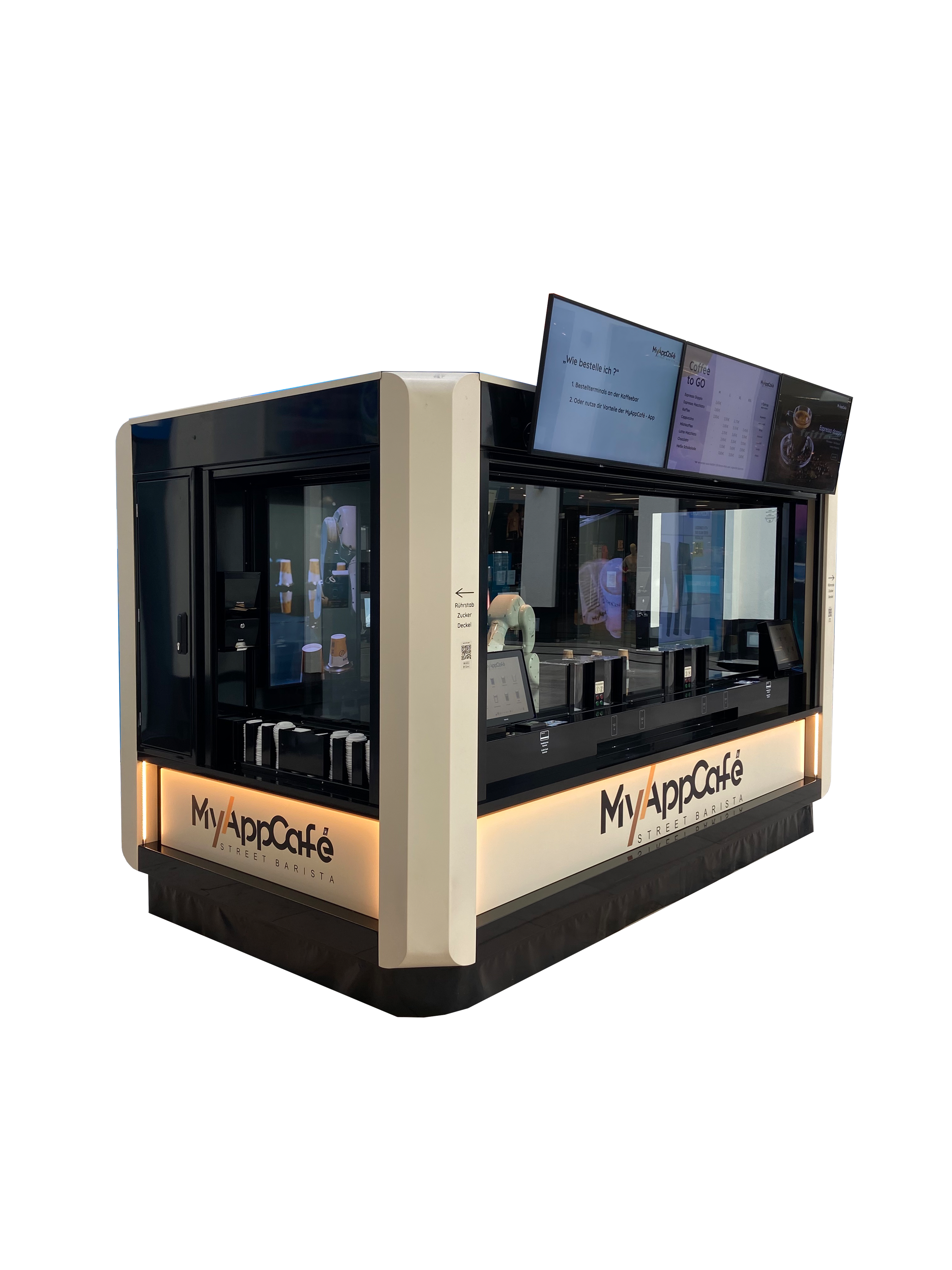 Beyond laughs, good coffee too it seems has been difficult to find, at least for third shift workers.
Workers don't want coffee from an old vending machine, or a pot that folks have to take the time to brew themselves.
That's the exact problem Robojo formed to solve.
The Worthington-based business is led by CEO, founder and coffee veteran Ben Czajka. Its partners include Worthington's Zink Foodservice. Germany-based MyAppCafe is the manufacturer.
Czajka spent more than 15 years in the coffee world as a franchisee of multiple Winans Chocolates + Coffees locations.
He knows what it takes to run a coffee business with people. Four years ago he began exploring the idea of automated kiosks and the potential to bring 24-7 service to sites that could use it.
"It's not about replacing a coffee shop," Czajka said. "It's about finding niches where they don't have one."
Beyond hospitals and healthcare, the team sees potential markets in airports, convention centers, hotels and colleges or universities — any facility with employees, visitors and customers around for long, if not 24/7, operations.
The concept and technology isn't new. The arm itself is the same sort of robotics at work in auto plants around the world. Other robotic "shops" have opened elsewhere around the world over the years. Cruise companies are putting the technology to use as bartenders on ships too.
After four years of research through the U.S., Asia and Eurpoe, Czajka found MyAppCafe, an enclosed kiosk that can make up to 250 different hot and cold coffee and tea drinks.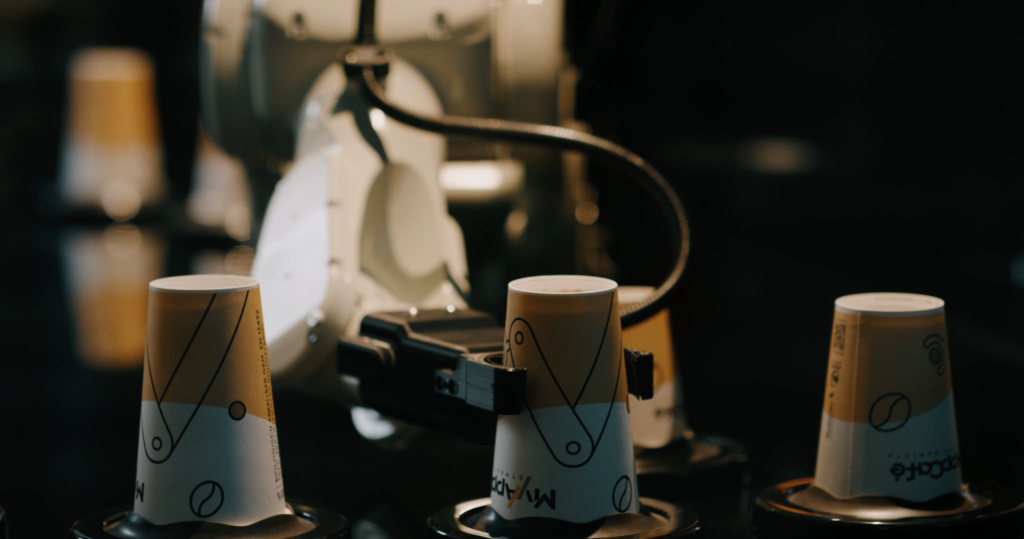 The Robojo team declined to say the price of a unit, but did say it is less than the buildout for a more traditional coffee shop. Czajka said that can start at $350,000.
The return-on-investment could be quick as well. Patterson said that while a traditional manned coffee shop needs to sell more than 200 cups a day to break even, their machine takes between 20 to 80 cups a day to hit that mark, depending on the machine.
Robojo is just selling the system, not coffee. Its clients can pick whatever coffee and drinks they want to serve. It holds supplies for up to 500 cups of coffee and can fill around 100 an hour. The machine only takes about an hour of human labor a day to restock it. Customers order and pay via an app.
When an order is placed, the arm zips around — it takes about 60 seconds a drink — moving the cup through the assorted stations, including a printer that puts images on that hot foam.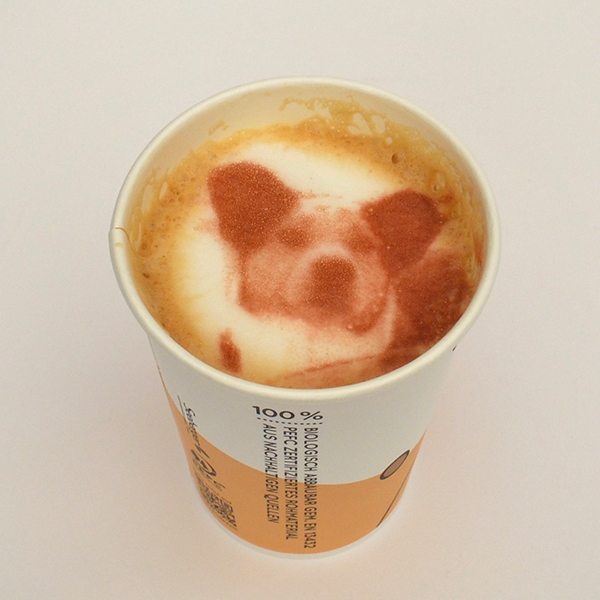 It waves to passersby and "counts" cups on hand in its downtime. The practical reason for this programming is to show that the machine is on even if someone is not immediately using it. But it also adds an unexpected touch of friendly personality.
"People want to watch the show," said Drew Patterson, account manager with Zink. Hehman said it's already become an attraction at the hospital.
"It's been great watching the joy on people's faces," she said. "That feels good." Curious readers should be aware the Doctors Hospital shop is only for hospital staff, patients and visitors, not walk-in customers. But Patterson said Robojo hopes to bring more to market, both here and across the U.S., soon.